Chewbacca on December 8th

Crump and I bit the fence a bit today.
Maybe We got used to stay together.

You know that I sometimes run in my pen, don't you?
Some visitors saw me run very fast today.
No one would think that I was an old wombat.

To tell the truth,
I had displeasure with the keeper since he didn't open the door of my room
though he opened Crump's room.

However, when the keeper began to clean Crump's pen,
I was determined to chase him.
I ran as fast as I could.
I bet the audience was impressed with my running.

Soon after the keeper finished the cleaning, he opened the door of my room.
As soon as the door opened, I entered the room.

I would like to tell you one more thing;
The visitors said that I was so cute again and again.
Some said that I was like a model.
Unfortunately I didn't photograph very well today bacause of the sunlight.



With Crump
15:15-

We didn't bite the fence very hard today, but we were still interested in each other.

Confidential talk?



Crump left earlier today.
I was still engrossed in biting the fence.



Five minutes later, Crump came back.



He has soon gone.
I was more persisitent than Crump today.



Walking
14:10



Stepping onto the stage


Yawning

I yawned a lot today.
14:12



14:15



14:32



14:52



15:01



15:30



15:42



15:54


Posing
14:13



14:52



15:43-



15:54



From the other side
15:55
 





Stepping down from the stage
15:57



In front of my room
15:58-



Just before going home

When I was biting the door, Crump was approaching.
I heard the keeper's footsteps then.

16:00




The door of Crump's room opened, and he went toward his room
I was watching him standing upright.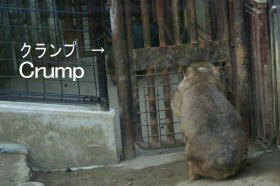 I thought the keeper opened the door of my room next,
but he began to clean Crump's pen.



Since the keeper moved, I chased him at good speed.
I heard someone say "Very fast!".
I bit the fence excitedly.



While I performed my own version of 'Open sesame', the keeper was approaching.



16:06
I went home six minutes after Crump entered his room.


********************************************************************************


Chewbacca's Room l Another Room of Chewbacca l The third Room of Chewbacca l The fourth Room of Chewbacca l The fifth Room of Chewbacca l The sixth Room of Chewbacca l The seventh Room of Chewbaccal The eighth Room of Chewbacca